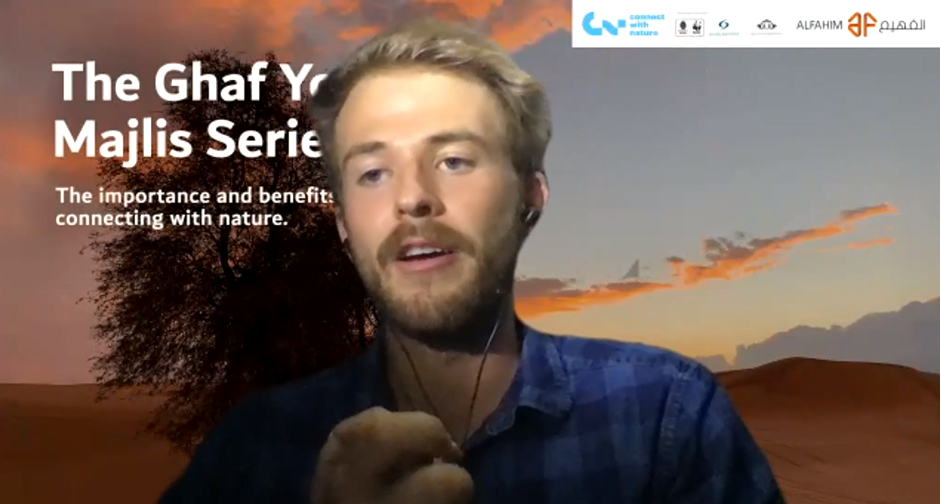 On Tuesday 3rd of November, many young people connected over Zoom for the first session of The Ghaf Youth Majlis Series with our esteemed speakers, Barney Swan, Founder of ClimateForce, and Hassan Hashmi, Owner and General Manager of Seahawk Water Sports & Adventures.
To introduce the Ghaf Youth Majlis Series we were joined by, Laila Mostafa Abdullatif, our Director General, who underscored that the philosophy behind this series is storytelling and sharing our experiences in nature. She spoke about the importance of these experiences in connecting with nature, stating that our "motivation and interest and passion to be a part of environmental conservation always starts from an experience. And that experience, 90% of the time, is an experience in nature because that's where you truly understand the power of nature."
We also had special guests Mohammad Abdulla Al Fahim, Alfahim Group Head of Business Development, and Hanadi Al Fahim, author of The Little Ghaf Tree,  who spoke about the Alfahim Group and their CSR collaboration with Emirates Nature WWF and the Ghaf Youth Majlis Series. Mohammad Abdulla Al Fahim stated that the Alfahim group aims to "create further awareness about the endangered species in the UAE make a difference in the community and show the importance of connecting with nature and its benefits."
An interesting and engaging discussion between our speakers and attendees followed, wherein stories and experiences of connecting with nature were shared.   
Barney Swan, Founder of ClimateForce, connected with us all the way from the world's oldest rainforest, Daintree Rainforest in Australia. He shared some of the experiences he's had connecting with nature in his life starting with his 2 month long expedition to the South Pole and how difficult and challenging it was. He recounts how there were no modern conveniences like shower, beds or the internet – a disconnect that helped him connect to nature. Barney Swan explained his own ethos of how he behaves when with nature. He stated "You know, I think there's an age-old expression you know, take only photographs leave only footprints. I think that's outdated to be honest. I think we need to be leaving places better. We need to be regenerating, need to be cleaning up some rubbish. We need to be planting trees, we need to be doing community work, cultural engagement and really be leaving a legacy of better than you found it."
Answering a question from one of the young attendees regarding what the various challenges youth face when advocating for conserving our planet, Barney answered that it's important that "both sides need to listen more." Reiterating that it must be a collaboration between both the youth and the older generation that will further conservation efforts. He underlined how important it is to not be judgemental with people who do not align with one's beliefs and instead to try and cooperate instead of pointing fingers.
Our second speaker, Hassan Hashmi, Owner and General Manager of Seahawk Water Sports & Adventures, delved into his experiences guiding others into getting outdoors, and helping them connect with nature. He started off by sharing his own views of nature in the UAE and how they changed over time, "Growing up we always have this notion that nature is that green forest is that, you know, lush and green environment around you that you to see in movies or documentaries and all that. But I came to realize that every single particle of sand in your land is a part of nature and its our duty to preserve it." He recounted his time spent outdoors with his father and not realizing that he was connecting with nature. Hassan Hashmi also spoke about the benefits of connecting with nature and how when you get out of the bustle of the city and into nature "slow things down a little bit and then you, you will reconnect, not only with nature, but yourself as well."
As the General Manager of an adventure company he often takes people on trips and various adventures, he said "We noticed that whenever we take a group of people out in the outdoors and then take them through these adventures, which are not very easy, we noticed the quick change or the quick benefit on them after each trip". He observed the positivity in people after these trips as they learn to help others and themselves. His philosophy is that nature can provide challenges which then help us grow and then further appreciate nature even more. He also spoke and interacted with a few audience members via question-answers, about the perception of being environmentally friendly, and how everyone must do their own part.