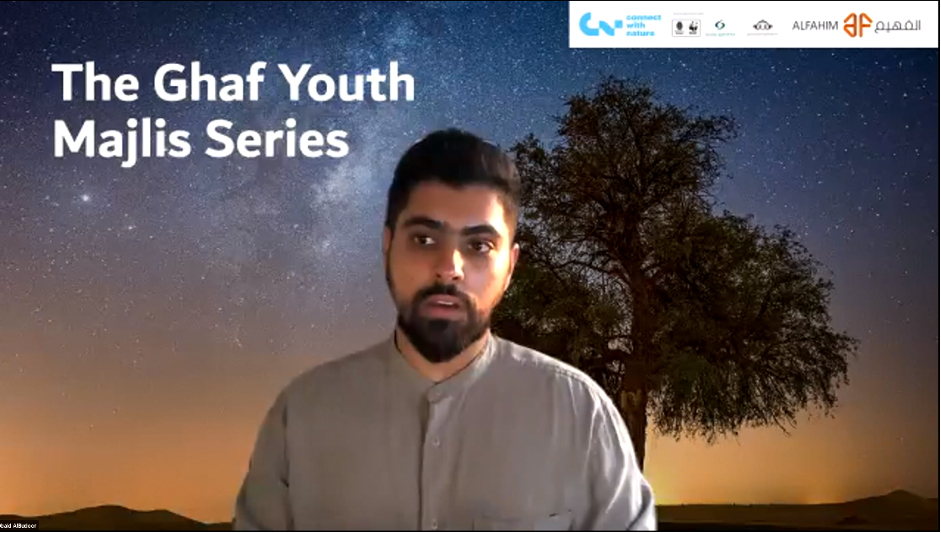 On Sunday December 20th, over 170 enthusiastic youth across the UAE connected over Zoom for the third session of The Ghaf Majlis Series with our three esteemed speakers; H.E. Mohammed Abdul Jalil Al Fahim, Chairmen of Al Fahim Family, Major Ali Al Suweidi, President Emirates Marine Environmental Group, and Obaid Al Budoor, Emirati based photographer, filmmaker and artist. The topic of the third Ghaf Majlis was "The Role of the Ghaf Tree in Life, Culture and Heritage." The enthusiastic participants listened intently to the speakers and their stories along with engaging in interesting discussions and a question answer-session pertaining to the Ghaf tree.
The philosophy of the Ghaf Majlis Series has been to place an importance on storytelling and personal experiences regarding a variety of environmental issues. For the third session of this series the focus was on the importance of Ghaf tress. The Ghaf tree, also known as the evergreen tree of the desert, is a drought tolerant species that can live upto 120 years and is an excellent indicator of the presence of groundwater. The Ghaf tree is an important tree species for the UAE and in 2008 was declared the national tree due to its importance in the culture and heritage of the UAE.
The facilitator of the session, Ahmad Abu Samra quoted a famous saying, "Death will not visit a man, even at the time of a famine, if he has a ghaf, a goat and a camel, since the three together will sustain a man even under the most trying conditions."
The first speaker, H.E. Mohammed Abdul Jalil Al Fahim, Chairmen of Al Fahim Family and author of the book From Rags to Riches: A Story of Abu Dhabi, spoke about his experiences growing up in the UAE. He reminisced how life was very different back then and there was a lack of water a rain with barely any trees apart from a few scattered palm trees and Ghaf trees. Using his presentation his Excellency described some of the conditions that the UAE was in when he was growing up. Highlighting the change that has happened since then, his Excellency spoke about how they would travel from Abu Dhabi to Al Ain. Talking about the 160-kilometre journey, he stated, "Today it takes us about an hour and a half, back in those days on the back of a camel it took us seven days and seven nights." Referencing an old photograph of Abu Dhabi, His Excellency described how there were no cemented roads or forms of communication with rudimentary houses made of palm trees and a small population.
Answering a question regarding why he wrote his book From Rags to Riches: A Story of Abu Dhabi, His Excellency replied that there were no books written about the UAE or Abu Dhabi. There was a need for a book of this kind to be written but in His Excellency's own words, "I could not find anybody who knew more than I did. So, I decided I will put away my business and concentrate on my research and write a book."
The second speaker, Major Ali Al Suweidi, President Emirates Marine Environmental Group, spoke about his experiences growing up in Abu Dhabi and being raised by pearl divers along with the importance of ghaf trees in his life. Talking about when his grandmother and mother would go to Al Ain from Dubai, he recounts how they would have special times to rest in between. Those periods of rest were special because his grandmother and mother would rest under the shade of the ghaf tree as the guide who was taking them would know the exact route with the help of the ghaf trees. These ghaf trees served the purpose of way pointers and rest stops, providing both direction and shade. Major Ali then retold a ghost story that his grandmother had told him, the story of ghost. Major Ali recounts, "Ammatawees (a ghost), is a beautiful lady whose feet are like a donkey and hand is like a knife and she have a very nice smell. She is always hiding in a ghaf tree at night. If you smell this nice smell and come to her she will kill you or make a problem for you." Major Ali also spoke about the lives of the Bedouin and pearl divers in that time, how transportation was difficult on camels and the various traditions they practiced.
In response to question posed to Major Ali about how one can influence the youth to be environmentally conscious, he answered that awareness is key and tackling misconception such as that the sea is meant for garbage, is an integral part of solving this issue. He also spoke about making individuals and families connect with nature at reserves which makes it easier for them to be educated and understand the impacts that they have on nature.
The third speaker for this session, Obaid Al Budoor, is an Emirati based photographer, visual storyteller and artist, who loves nature and seeks to immerse himself in nature around him. His content has been displayed on many platforms and he has hosted shows on National Geographic Arabia along with displaying his artwork across the UAE. Obaid Al Budoor spoke about how he his career has shifted its focus to documenting and preserving what the UAE and Arabia have to offer as he wanted to start close to home and branch off from there. Obaid's work involves him being outdoors as much as possible and immersing himself in the world. Obaid with the help of his beautiful pictures showed the youth participants a variety of outdoor and cultural activities he has experienced. One particularly interesting picture was of him and a few other people who undertook a 6 day journey to travel from Abu Dhabi to Al Ain on foot so that they could experience the hardships that people would undertake in the old days. Obaid then talked about the ghaf tree and his experiences with it. Talking about the ability of this tree to grow almost anywhere and hardiness, Obaid spoke of various places where he himself was shocked to find this tree growing. Furthermore, he stated that although man-made structures might not survive in the desert, the ghaf tree always survives. He said that, "I think its important to learn some lessons from this tree, how to take little from what is around us to survive." Obaid reiterated that it is our duty to protect nature and stop littering when we go outside and infact, to pick up trash when we see it lying around.
Answering a question about his process and planning for trips to visit ghaf trees, Obaid answered that he uses Google Maps' satellite view function to survey his surroundings and identify ghaf trees before heading outside. This allows him to pplan beforehand and see locations where there are an abundance of ghaf trees for him to photograph and document.