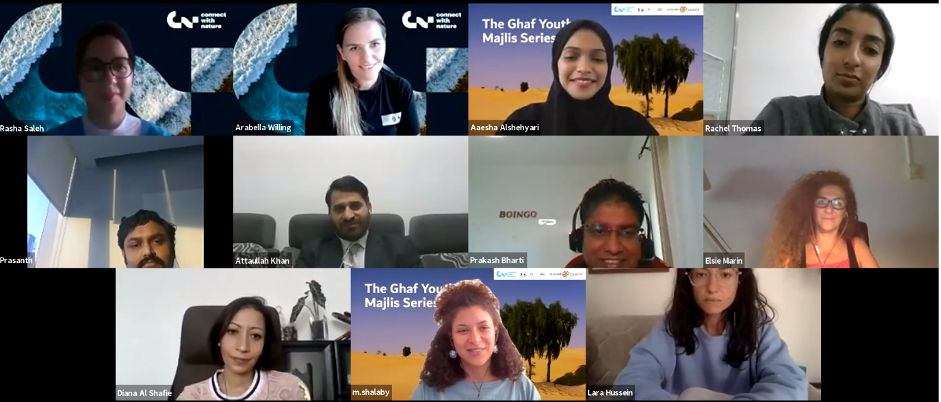 On Wednesday 25th of November, 120 of UAE's youth connected over Zoom for the second session of The Ghaf Youth Majlis Series with our esteemed speakers, Lyle Glowka, Executive Coordinator of the Convention on Migratory Species Office Abu Dhabi, and Mai Shalaby, Curator of the Emirates Soil Museum ICBA. The topic for the second Ghaf Youth Majlis Series was "Can Technology Save Nature in the UAE?" The special guest speakers and wonderful youth from across the UAE had an interesting and engaging discussion pertaining to various aspects of this extremely important question in today's time.
The session was also graced by Laila Mostafa Abdullatif, our Director General, who underlined the goal of this series which is to "really use the power of storytelling to connect us again to the natural and cultural heritage of the UAE." Mohammad Abdulla Al Fahim, AlFahim Group Head of Business Development, also joined the session and talked about the collaborations that the AlFahim Group has had with Emirates Nature-WWF in the past, and its own CSR initiatives that are striving to create awareness about endangered species in the UAE.
Before the session started, participants were asked a few questions via polls:
94% of the participants believed that technology save can nature.
46% agreed and 34% strongly agreed that humans will eventually learn enough about nature to modify the natural environment to suit our needs.
50% strongly disagreed with the statement that "Nothing I do will change problems in other places on the planet."
 
The first guest speaker, Lyle Glowka, Executive Coordinator of the Convention on Migratory Species Office Abu Dhabi, discussed what migratory species are and the different kinds of migratory species found in the UAE. He then described the role and function of the Convention on Migratory Species (CMS) and how they utilize technology in their work. Lyle states that "technologies are very, very important these days. And in fact, always have been. In terms of helping us visualize the journeys that migratory species undertake and which country is which parts of the world, they're traveling through." The various technologies used by the CMS range from tagging and digital camera traps to aerial surveillance, artificial intelligence and satellite tracking. Lyle also discussed a new method and technology, "something which was really kind of grown exponentially in the last few years is crowdsourcing. This is actually empowering people as citizen scientists to go out with their cell phone and to collect pictures and other data."
He then shared the story of the Amur Falcon in Nagaland, India, and how showing local communities that hunted these species en-mass the satellite tracking and migratory path of these falcons, they were able to make these communities understand the impact they were having on the world. The CMS in tandem with the Government of India was able to transform these communities from hunters of the Amur Falcons to their protectors, wherein they started a "Welcome Home" campaign for the falcons. Answering a question about accessibility and cost of tracking technologies for migratory species, Mr. Glowka replied that, "It used to be quite expensive to buy these transmitters. Now the most expensive thing is not the transmitter but buying the satellite time."
Mai Shalabay, Curator of the Emirates Soil Museum ICBA, was the second guest speaker for the session. She initially discussed her story of how she got to the position she is at in her life along with her personal connection with soil. She also introduced the Emirates Soil Museum which is an initiative of the International Center for Biosaline Agriculture (ICBA). The Emirates Museum and ICBA aim to educate about the value of soil in national development and cater to the needs of students, professionals, and policy makers. Mai Shalabay the discussed what soil is, its functions, and food security. Some functions discussed by here were "Soil provides us with over 95% of the food that we consume. So if it weren't for soil, food security would have been an even greater challenge than it is today. And soil is actually the largest terrestrial store for carbon and climate regulation." Soil is also not a renewable resource as it takes thousands of years to accumulate and form over time. Presently, soil faces threats like deforestation, urban expansion, climate change, biodiversity loss and many other things.
Talking about technology for soil conservation Ms. Shalabay spoke about afforestation programmes and how planting cover crops helps hold the soil together. "In the UAE that use drones to plant 1 million Ghaf trees. There's other projects like that in Canada, and I think there was an Indonesia. So there are lots of projects that are now making use of technology to be able to conduct mass forestation programmes" She also spoke about how artificial soils are now being researched and created, along with nano-clay which effectively skips the thousands of years it takes to create naturally suitable soil. Other technological advancements in soil microbiology and big data analytics are also being researched to benefit soil conservation. Lastly, addressing what we can do to conserve soil, Mai Shalabay stated that segregating waste at home is extremely important. Especially if e-waste is being mixed with biodegradable waste since electronics often poison the soil due to leakage of toxins. She emphasised on recycling as a lifestyle and planting as many trees possible.