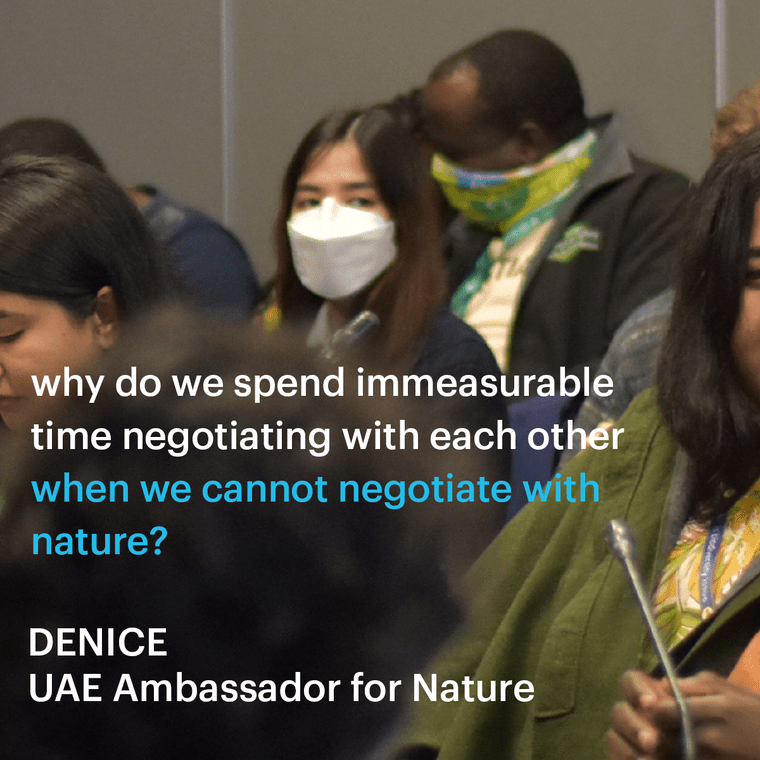 Dear Youth,
A month ago, I had the opportunity to attend the UN Biodiversity Conference (COP 15) in Montréal, Canada. It was an eye-opening experience! I was accredited by the Global Youth Biodiversity Network and assigned three roles which I found, in all honesty, to be quite overwhelming, but also equally fulfilling.
My eyes were opened first when I joined the COP 15 Youth Task Force. I learned the power of the youth as I observed first-hand how a group of youth, who are thousands of miles apart and with few resources, are capable of starting a transformative movement through their collective actions.
My eyes were opened again during my role as a Global Youth Biodiversity Network delegate. I learned that it is possible to fight for a cause without being aggressive, but with kindness. I met young people from both biodiversity and climate spaces who have very different approaches in advocating for particular issues. Initially, I found it concerning how youth from other regions were at times very vocal and passionate about their cause. Then I discovered that the treaties being negotiated are not merely political but personal to them. I came to realise that that not everyone is as fortunate as I am. Being a youth from the UAE, we did not have to rob a mic off from someone else, we were given a stage to voice our visions.
As the UAE hosts COP28 this year, I hope that we inspire other nations to create a safe space for young generations to have a peaceful and meaningful discussion with local and global leaders.
My eyes were opened yet again when I joined the COP 15 Youth Policy Team and learned that agreements may be adopted even though not all Parties have fully agreed on certain terms. I found myself asking, is this the main reason why all countries are not able to achieve specific targets? Perhaps the challenge starts with the negotiations itself.
My eyes were closed at the beginning, but now they are open. Diplomacy is the greatest takeaway from my COP 15 journey. Despite the frustrations, it was necessary for the negotiators to sustain international relations. It was tricky, but I gained an understanding that the ideal way to exchange views is to criticise the position, and not the person.
The convention made me wonder, why do we spend immeasurable time negotiating with each other when we cannot negotiate with nature?
Denice
UAE Ambassador for Nature