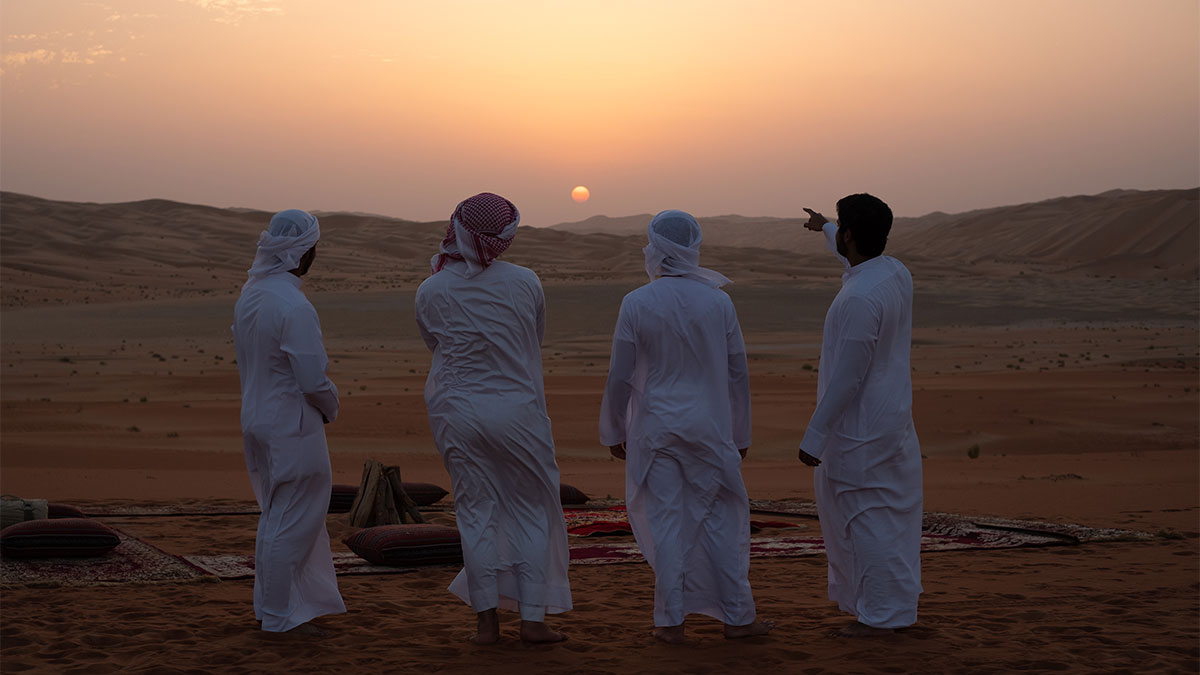 Session 4 of our 'Reimagine' Youth Circle series, held on Wednesday, July 7th, was attended by 238 young people across the UAE, as they engaged directly with our esteemed guests H.E Dr. Shaikha Salem Al Dhaheri, Secretary General of the Environment Agency- Abu -Dhabi, H.E Mohammed Saleh Al Baidani & H.E Noor Al Marzouqi, Director General and Deputy Director General of the International Fund for Houbara Conservation (IFHC) around the topic 'Learning from the Past, Saving for the Future'.
Before diving into the discussion, we asked our participants "Should we put more emphasis on traditional values and practices to minimize pressure on the environment?" –  a whopping 93% of youth attending the session voted 'yes'.
As we delved into potential solutions on how to balance modern life with keeping traditions alive and protecting the integrity of species and ecosystems, our esteemed speakers shared their experiences and the knowledge they gained from their parents and grandparents and their relationship with nature. "The past is always a part of our identity and we must try to maintain it, it holds a lot of knowledge and wisdom that our ancestors obtained from their close relationship with nature", expressed H.E Dr. Shaikha, who illustrated this with a brilliant example of the Late Sheikh Zayed and his realization of the problem of overhunting, where he sent a pair of endangered Arabian Oryx to the US for a breeding programme – today UAE holds the largest population of Arabian Oryx globally, and because of him, we were able to revert the status of the species, from extinct to vulnerable. "Without this experience from the past, we wouldn't be in a place of such celebration today." Sheikh Zayed's programme has led to Arabian Oryx release programmes inside and outside the UAE. As the late Sheikh Zayed bin Sultan Al Nahyan once said: "He who does not know his past cannot make the best of his present and future, for it is from the past that we learn."
"Using traditional knowledge has helped us at the Environment Agency, as a regulatory authority, to shape many of our laws, regulations and policies, it gives us insights, and we are confident that these laws are not only suitable for today but also for many years to come"  shared H.E Dr.Shaikha, clarifying that clear and reliable scientific data, coupled with traditional knowledge gained through face-to-face interviews with local fishermen and camel herders, ensure we learn from traditional practices of our forefathers to help shape the right policies and regulations. Scientific data has confirmed, time and time again, what traditional knowledge tells us. With access to technology and smartphones, individuals now have a unique opportunity to contribute to scientific data through citizen science, and you can learn all about that here.
Speaking of youth contributions, H.E Mohammed Al Baidani communicated the value of educational programmes and developing youth into equipped changemakers. "This session gave us direct access to tomorrow's change-makers. Through our partnership we will continue informing bright young minds how they can help us protect our environments & preserve our culture." Developing educational programmes and engaging with the youth has been a key element in the International Fund for Houbara Conservation strategy. In the UAE, the Fund has continued to engage with the next generation of conservationists through "Conservation Education: the Houbara Model"', a unique cross-curricular education programme.  In the past 12 months, the programme has engaged more than 36,000 students in 40 schools across the emirates. You can learn more about our partners the IFHC and their conservation education programme here.
H.E Noor Al Marzouqi said, "Engaging with bright young minds is one of the core objectives at International Fund for Houbara Conservation, so it was an honour to share this opportunity with Connect with Nature and Environment Agency Abu-Dhabi; and to continue educating the UAE youth on the importance of conservation and how they can play a leading role in preserving our heritage".
H.E Dr. Shaikha ended the session with a heartwarming message to the youth: "You all have a big responsibility and burden. I trust that you will shoulder this burden responsibly and work for a healthier planet for us".
So, what did the youth have to say?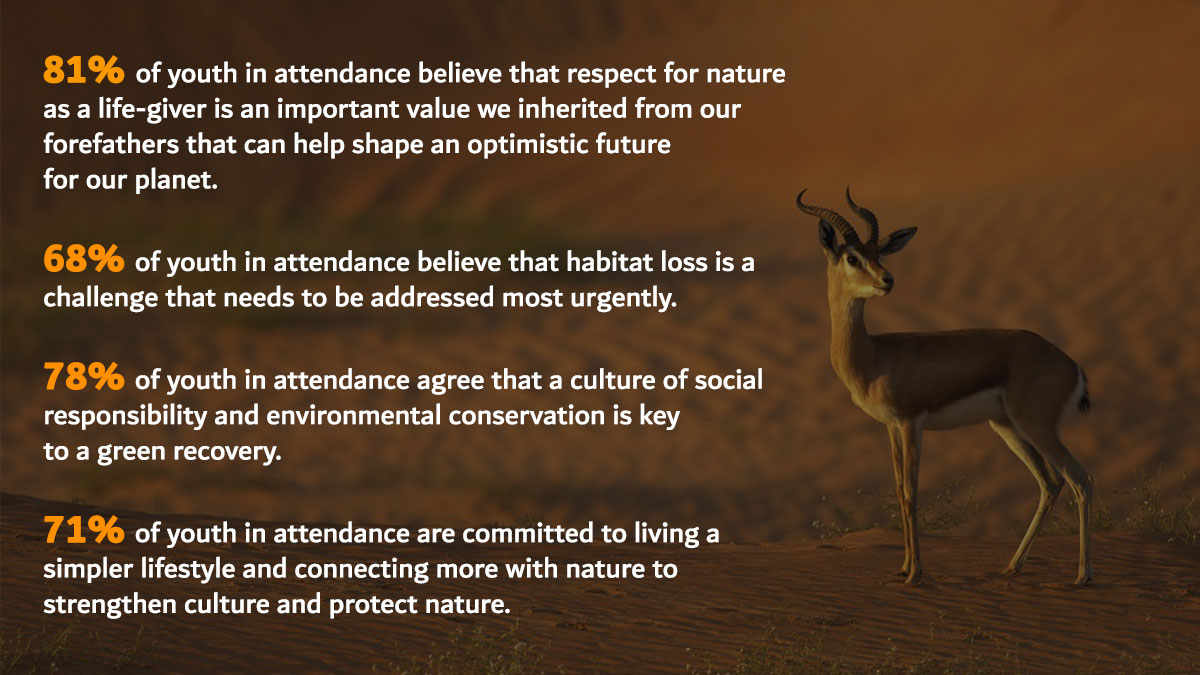 It was quite evident from the discussion and responses to our poll, that our community of youth desire to put more emphasis on traditional values and practices to minimize pressure on the environment post Covid-19 and they are ready to help especially when it comes to communicating action that individuals can take. But most importantly, attending youth made it clear that they were ready to contribute to these efforts with 71% of them expressing their willingness to live a simpler lifestyle and connecting more with nature to strengthen culture and protect nature.
The youth also agreed that we should consider nature conservation as a culture rather than social responsibility which will eventually lead to embodying nature conservation in our lives.