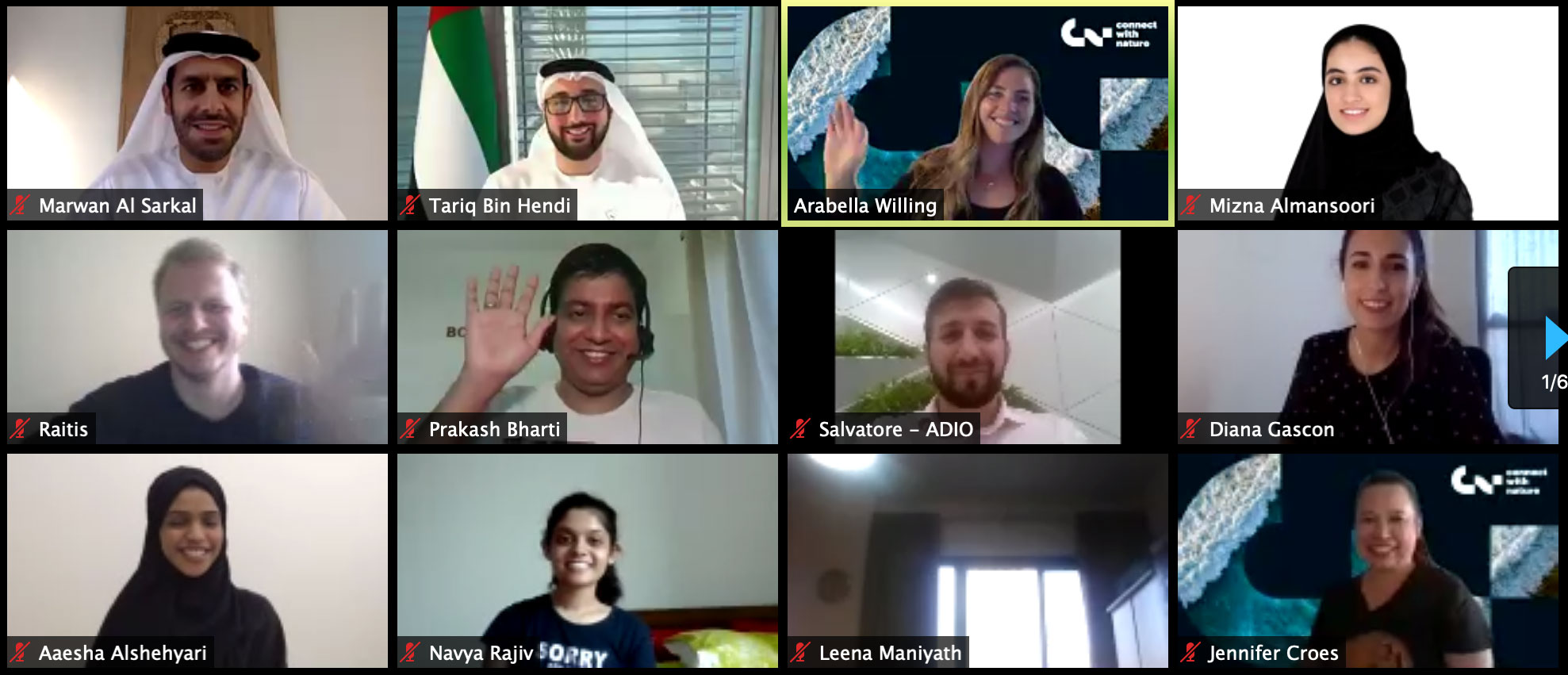 Wednesday, September 2nd, saw over 226 young people assembled over Zoom, for an engaging session with our esteemed guests, HE Marwan Bin Jassim Al Sarkal, Executive Chairman of Sharjah Investment & Development Authority, Shurooq, and HE Dr. Tariq Bin Hendi, Director General of Abu Dhabi Investment Office, around the role of ecotourism in a green recovery for the UAE.
Before the event, we had asked our participants, "Do you think eco-tourism has a net positive impact on nature?" – A staggering 81% of the participants said yes. We also asked the participants if they have had an eco-tourism experience, and almost half of them said no, unanimously indicating that more awareness of eco-tourism is needed.
According to the World Travel and Tourism Council, the travel and tourism sector accounts for 5.4 percent of total employment in the UAE. Investment in the segment from both the public and private sectors is rising and providing major opportunities for youth to get involved and share their ideas and suggestions. A dynamic discussion between our esteemed guests and attending youth ensued, delving into the challenges facing eco-tourism, including how we can protect the delicate ecosystem in the midst of the planned increase in visitors. The discussion also covered the role of eco-tourism activities, not just as enjoyable and unique experiences in nature, but also to educate visitors on nature, heritage and the environment, and the need to protect it for our own wellbeing.
It was clear that eco-tourism is being given importance in the UAE, with most emirates doing great work to create amazing eco-toursim projects that highlight the biodiversity that the UAE enjoys. H.E. Marwan bin Jassim Al Sarkal introduced the youth to Shurooq's contribution to eco-tourism in the country, with the authority undertaking investments in eco-friendly tourism projects and destinations, that cover a wide range of luxury, entertainment, and authentic experiences across the Emirate of Sharjah.
Stressing on the importance of preservation and knowledge of the UAE's history and ecology, H.E. Marwan explained that Shurooq's portfolio of eco-tourism sites, also serve as an educational experience for visitors, and offer educational programs to learn on how to protect nature, for us, and for our future generations, by experiencing biodiversity, and getting to know about its history and archeology. He gave the example of Shurooq's The Chedi Al Bait resort, which represents Sharjah's natural wonders and archeological treasures, a site which originally inspired the authority to push the sustainability envelope. "We've developed learning programmes so that people can go for both tourism and education purposes, learning more about the biodiversity of the area, and nature. Nature is always part of our DNA and I hope everyone has the opportunity to see how unique nature truly is in the UAE". "We are creating a new industry within an industry, and we need to market our locations and programmes more". He added that whilst the UAE is one of the most fascinating places to experience nature, not a lot about it is known. He also called on youth to take the leap into the eco-tourism sector. "We want to see youth create excursion programmes, people that have studied tourism, but specifically eco-tourism – it is a new sector and a small market, but with increasing demand".
On the discussion of youth involvement, H.E. Dr. Tariq Bin Hendi stressed that youth must lead as an example in protecting nature. He shared that the government is putting resources to support and boost this industry and youth are encouraged to jump in and share their business ideas, suggestions, and comments with leadership, explaining that "this will help drive change and transformation, and enable the UAE to be more eco-friendly". He also communicated that "it's about education and awareness and ensuring that we leave this country a better place for the next generation".
On creating a sustainable future through eco-tourism, H.E. Tariq highlighted that it is imperative that we consider the impact we are having while both developing and experiencing eco-tourism activities, from the way the project is built and managed, to the footprint we leave behind as visitors. "To preserve the environment we are blessed with, every individual has to play their part and that starts at home." He added that we must take personal responsibility for our behavior and work on spreading awareness to friends and family to improve the way we behave here in the UAE and when we travel abroad.
So, what did the youth have to say?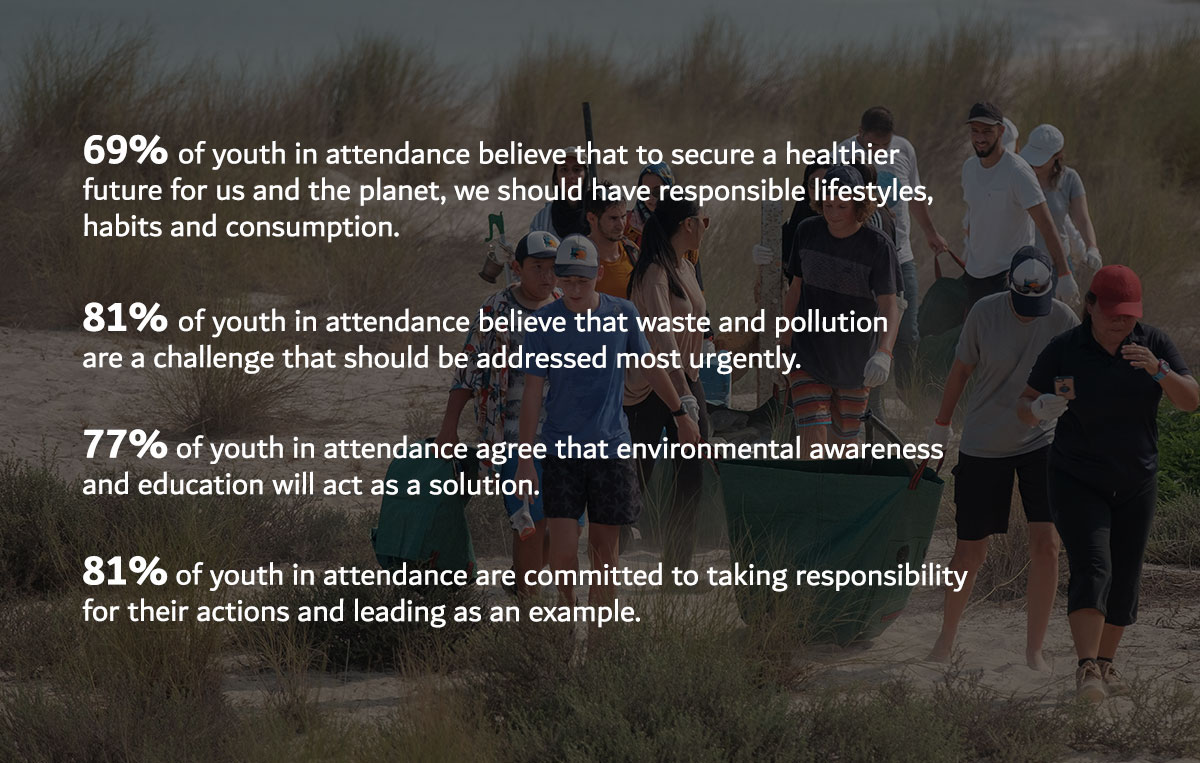 It was quite evident from the discussion and responses to our poll, that our community of youth have demonstrated strong interest and willingness to experience eco-tourism and agree that it is our individual responsibility to manage the footprint we leave behind. But most importantly, attending youth made it clear that they were ready to contribute to these efforts with 81% of them expressing their willingness to change mindsets and increase awareness.
On an end note, our Director General, Laila Mostafa Abdullatif, reiterated what both Excellencies highlighted – the value of experiences – communicating to youth to "get out in nature, and develop your own connection with nature; and to experience nature in its rawest form so that it will teach you the value of it".