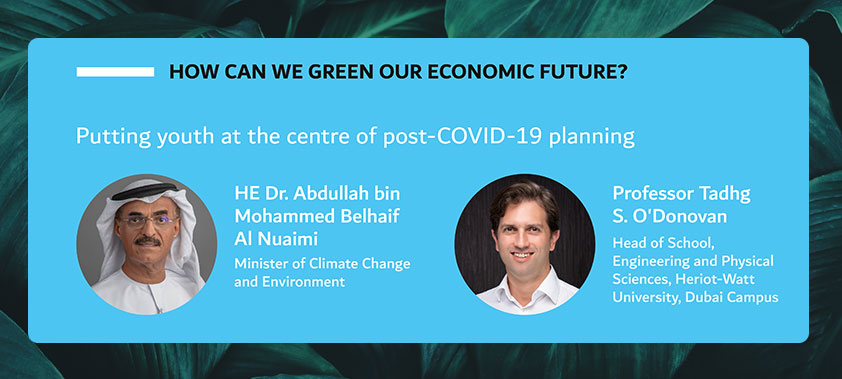 Monday, September 21st, saw over 192 young people assembled over Zoom, for an engaging session with our esteemed guests, H.E. Dr. Abdullah bin Mohammed Belhaif Al Nuaimi, Minister of Climate Change and Environment, and Professor Tadhg O'Donovan, Head of School, Engineering and Physical Sciences, Heriot Watt University, Dubai Campus, around how we can green our economic future.
Before the event, participants were asked, "Do you want life post-COVID-19 to be exactly as it was before the pandemic?" – 56% of the participants said no, implying that more than half of attending-youth were aware of the environmental problems our planet faced prior to the pandemic, and are determined to build back better.
A dynamic discussion between our esteemed guests and attending youth ensued delving into reimagining the kind of ambitious market innovation and transformation that we could see emerge post COVID-19, that will change our lives for the better, by helping us recover financially and restore nature. The imperative of the role of youth in greening our economic future, was also emphasized.
"The pandemic has shown us that we have the ability to reduce greenhouse gas emissions if we put our minds to it". The lockdown has benefitted the government as well as, helping highlight "[…]what to tackle, and where we went wrong, for example, in food security, agriculture and so forth". H.E. Dr Abdullah expressed optimism and stressed that the interlude of COVID-19 has instilled upon us the urgency to reflect and realize that we need to act differently.
He also expanded on the importance of youth's role in the sustainability sector, and the ministry's role in actively engaging with youth to better understand and assist them, as "they are the architects of the future, and therefore, we cannot ignore their voices". The Ministry of Climate Change and Environment, in line with the Emirates Youth Climate Strategy, offers a youth entrepreneurship program, presenting young entrepreneurs the opportunity to present their ideas to investors. H.E Dr. Abdullah stressed the importance of innovation in green recovery, saying that the "youth are the leaders in embracing new technology and play a key role in innovation, and in the thriving technology start-up industry in the UAE". He further stated that jobs of the future will be heavily based on new technologies, giving rise to greater demand for green economy and digital career opportunities, and that the UAE has announced a long-term economic stimulus package to help accelerate the transition to a digital economy and green recovery. His excellency went on to say that one of the most promising areas for youth is sustainable agriculture, in which youth are demonstrating their innovative capabilities "we are seeing an increasing number of local farms run by young passionate entrepreneurs, who are using advanced agricultural technologies to help tackle food and water security challenges in the region". 
Adding to the discussion on youth as important contributors to greening our economic future, Professor Tadhg O'Donovan urged them to engage in relevant conversation, as it is one of the most powerful tools we have, as it encompasses all the ingredients we need for innovation and creativity. Professor Tadhg also emphasized the need to follow a 'technology agnostic approach' by examining our service level needs, and the resources and opportunities available, and then assessing the technology that will need to put into place, to cater to the needs "the solution is not always technology". Professor Tadhg also spoke about the importance of adapting to change, but that this pandemic has proven that  "change can happen dramatically and quickly, and we are much more adaptable than we have given ourselves credit for". While some may fear that sustainability is going to cost money or be some kind of burden on individuals or society, Professor Tadhg assured attendees that there is no "theoretical or tangible link between economics and sustainability, and if there is, it is time to decouple the two". Professor Tadhg believes "we need an approach that is virtuous - where people want it, we see the market opportunity, and we design accordingly to put in place solutions that we know everybody wants". He also stressed that the challenge in greening our economic future, is information. We need to start thinking differently once we understand our impact on the environment, and this will help us to guide our behaviour as we make choices. We need to think "how can we design an environment, how do we design as engineers a society that gives us a better chance at a sustainable future".
So, what did the youth have to say?
73% of youth in attendance believe that to secure a green future for us and the planet, we should reduce waste, e.g. single-use plastics.

71% of youth in attendance believe that environmental awareness and education & critical thinking is a challenge that should be addressed most urgently.

72% of youth in attendance agree that using renewable energy and green technology will act as a solution.

91% of youth in attendance are committed to adopting responsible lifestyles and consumption.
It was quite evident from the discussion and responses to our poll, that our community of youth feel that in order to secure a green future, we need to transition towards a circular economy.  More importantly, 91% of attending youth expressed their willingness to adopt responsible lifestyles and consumption.
In wrapping up, our Director General, Laila Mostafa Abdullatif, reiterated what H.E Dr. Abdullah stated, that COVID-19 has given us the opportunity to look at what we have done in the past, examine how we can improve our measures and look at how we are implementing sustainable solutions.