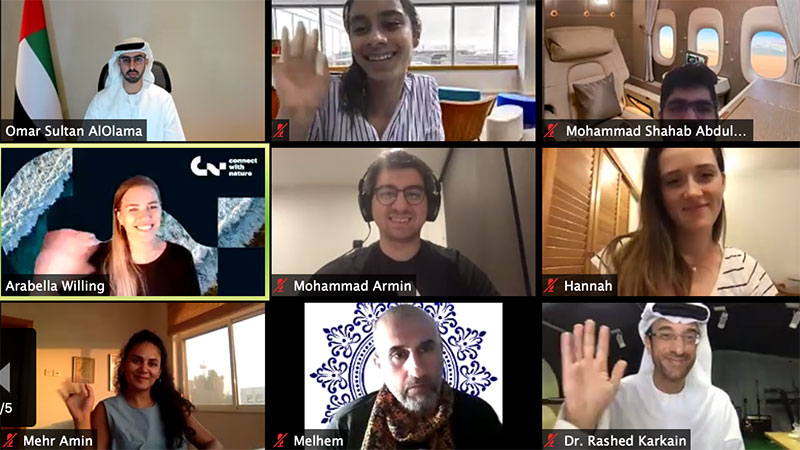 On Tuesday, 29th of September, 212 young adults connected over Zoom, for our 9th 'Reimagine' Youth Circle, featuring some very special guests, H.E. Omar Sultan Al Olama, Minister of State for Artificial Intelligence, Digital Economy & Remote Work Applications, and Dr. Rashed Karkain, founder of Sustainable Development Research & Training Institute, on whether innovation can help fix our ecosystems.
A dynamic discussion between our esteemed guests and attending youth ensued delving into how we can harness the power of digital technology and AI to protect nature.
H.E. Omar  started by saying "humanity over the past 40 or 50 years or so has destroyed more than 60% of wildlife of this planet", and that we are in a battle against time, to deploy technology effectively to safeguard nature. "AI today is driving change and moving the world forward [..] this is a technology that can be used a lot in preserving wildlife and ecosystems." Moving on to explain the importance of AI to wildlife & nature, H.E. Omar emphasized on the significance of the health of our ecosystems and wildlife and their co-relation to the other crucial sustainability driver, climate change.  He further said that AI can be increasingly employed in preserving wildlife and improving our ecosystems – "AI can see, hear, and analyze data better than any human". Giving examples he said, that AI can track wildlife in a way which could make us understand their behavior and their needs better, to know what is happening around them, thereby helping us in making the right decisions for their conservation. He added that he has worked with Dubai Conservation Reserve to deploy AI on their camera traps across the reserve.
H.E Omar urged youth to believe in their ability to deploy technology, to ensure a better planet for future generations. He said data because of its importance in decision making is often referred to as the "new oil",  however now AI is becoming even more important than data, as it provides insights that even "top scientists in the world cannot provide". He advised that change is only possible, when action is sustained for a long enough period of time, and opined that any new idea should be evaluated for the extent of its impact, its cost effectiveness, and the lowest barrier of deployment – "technology is the tool, the solution is in your creativity".
Dr. Rashed agreed and emphasized that AI can help us speed up data collection and data analysis, to transform the data to information, and thereby pacing up the action that we need to take.  He explained how the technology can support with environmental monitoring, environmental services, and environmental protection. "If we cannot measure, we cannot manage" – Dr. Rashed expressed that we can't always identify what part of the ecosystems needs to be fixed, but with the help of AI, we are able to get the data that we need, allowing for a more tangible outcome. Technology and innovation can be used not only to diagnose a problem but also predict and prevent natural disaster. "One indication of wildfires is the movement of animals, e.g. panicking, and AI can provide us with this data, before the disaster in nature spreads, as the data suggests that something unusual is occurring in nature, and so, allow us to tackle the problem promptly". Dr. Rashid urged that we must not wait for more disasters to begin innovating nor do we need a job title to do so. He offered two ways on how innovation can help fix our ecosystems – "with an influential environmental and sustainability leadership, and with a change in our lifestyle and behaviour as individuals". He stressed that environmental and sustainable leadership brings the vision that has a wide horizon at the whole ecosystem and not a specific issue.
So, what did the youth have to say?
84% of youth in attendance believe that innovation of alternative sustainable materials and energy sources must be prioritized.

59% of youth in attendance believe that reducing and managing waste consistently is a challenge that should be addressed most urgently.

64% of youth in attendance agree that analyzing consumer behaviour, consumption patterns and tracking carbon emissions, will act as a solution.

78% of youth in attendance are committed to changing their lifestyle to incorporate more sustainable consumption.
It was quite evident from the discussion and responses to our poll, that our community of youth feel that in order to protect our ecosystems, we must innovate to build alternative sustainable materials, and energy sources. More importantly, 78% of attending youth expressed their willingness to alter their lifestyle by incorporating more sustainable consumption habits.
In wrapping up, our Director General, Laila Mostafa Abdullatif, reiterated what both esteemed guest speakers communicated - technology and innovation is part of our lives, and it is essential that we continue to learn about the possibilities that arise in the future. We must ensure that we have the drive, impact, and are reducing costs, whilst being incredibly innovative in the solutions that we put it in place.
---------------------------
Dr. Rashed was kind enough to offer our community a free course, that you can access below (it is KHDA accredited)
Complimentary Asynchronous Online Course: Green Economy & Sustainable Energy
http://cloud.institute.ae

Enrollment key: ENWWF